We provide outstanding professional to clean area rugs in Ottawa, Nepean, Hull, Kanata and the surrounding areas. Dry cleaners utilize a specific chemical that assists to steam clean the carpet while absorbing dirt. Often it takes a while for the rug to entirely dry, which makes utilizing the damp variation extremely time-consuming.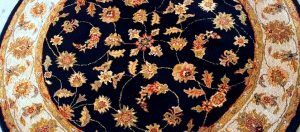 A lot of rugs need to be cleaned at routine intervals, as they get dust rather quickly. As the leading rug cleaning company in Ottawa, we make use of the most more modern techniques. It will certainly help ensure that your rugs are cleaned and deodorized in the most efficient and safe manner.
We offer removal of tough stains like deeply inherent soil, oil-based spots and food discolorations. Utilizing low-flow carpet cleaners will help keep carpets and have them ready for use in the best possible way.
Make Your Rugs Smell Fresh
We provide the highest quality service to our customers, but that is not all that we do. The most important part is that we make your rugs look and feel new again. People love their rugs, and we ensure that you get to enjoy them like you did when you first bought them.
Cleaning your area rug can be a hard and demanding job, especially with the variety and ranges of colors, designs, shapes and sizes.
Long, thin Oriental rugs are made specifically for hallways and require special methods to clean them, depending on the material. Rotate your rug once a year can help keep it clean and looking new.
The first thing to bear in mind when cleaning a rug is never to beat it. It was a usual practice for many years to hang the rug and beat it to remove the surface dirt. The trouble is that many of these material can be delicate, a single whipping may loosen the carpet fibers and seriously cause damage to it, thus decrease its lifespan.
Other things to stay clear of when cleaning rugs are shampoos and harsh chemicals. Lots of shampoos appear to clean these area rugs initially. However, they end up leaving a sticky residue that will certainly trap much more dirt over time.
Other methods for cleaning the rug include a steam cleaning and special methods that depend on the material. Within this procedure, a technician could mix a handful of an active ingredient and then use an automatic clean to comb the fabrics. This can be a safe method to use when done by a professional.